When Roman Abramovich took over at Chelsea in the summer of 2003 it was only in our wildest dreams that we could go on to achieve what we have in the last 16 years. Despite all the success which includes all domestic trophies more than once and two European trophies I feel that Roman took us on to a new level but it didn't start with him. This is the story of what happened before he arrived and when the change at Stamford Bridge really happened.
It was during the summer of 1995 when manager Glenn Hoddle signed former World Footballer of the year Ruud Gullit on a free transfer and Manchester United legend Mark Hughes for £1.5m. Having Ruud in Chelsea blue at Stamford Bridge was an incredible sight. He oozed class on the ball and his range of passing was with pinpoint accuracy. Mark Hughes gave us that extra impetus up front and was a real warrior as well as holding the ball up bringing others into play. Sir Alex Ferguson later revealed selling Mark was his biggest regret in football.
Picture via Chelsea FC Matchday Programme
Later that year Chelsea signed Dan Petrescu from Sheffield Wednesday for £2.3m. Dan went on to become one of the best right wing backs the club has ever had. Chelsea finished 11th that season with a run in the F.A Cup that took us to the Semi Final. With Glenn in charge and attracting some great players it was felt by the fans we were on the brink of something special.
Soon after the season had finished Glenn Hoddle took the England job and Ruud Gullit stepped in as Chelsea player / manager. Fans were impressed with the signings he made including the likes of Gianluca Vialli, Frank LeBoeuf and Roberto Di Matteo.
Tragic news was to come in the October of 1996 when Chelsea supporter and vice chairman Matthew Harding died in a helicopter crash returning from a League Cup defeat to Bolton.
A month later Ruud made another signing in the form of the Italian magician Gianfranco Zola. The rest is history.
Picture via dailymail.co.uk
Chelsea finished the season sixth in the Premier League and we won our first major trophy in 26 years. The F.A Cup was secured with a 2-0 victory over Middlesbrough. Roberto Di Matteo's opener after 43 seconds will always be remembered.
As we entered pre season in the summer 1997 Ruud continued to attract the big names as fans eagerly awaited the new season. The thought of playing in the European Cup Winners Cup as a result of winning the F.A Cup was equally exciting. Tore Andre Flo, Gustavo Poyet, goalkeeper Ed De Goey, Celestine Babayaro, Bernard Lambourde and Greame Le Saux all joined the first team squad.
As the season started Stamford Bridge was also developing with the new 'Shed End' complete and a new Chelsea Megastore opening.
We started the campaign with another trip to Wembley only to be beaten on penalties by Manchester United in the Charity Shield.
Chelsea started the season very positively and were well on course for a top four finish going into the new year. Chelsea were also progressing well in the League Cup and European Cup Winners Cup. On the 12th February 1998 we were all in complete shock with the sacking of Ruud Gullit. We never really found out why but it has since been reported it was a dispute with then chairman Ken Bates. It was up to Gianluca Vialli to step in to Ruud's shoes and become player / manager.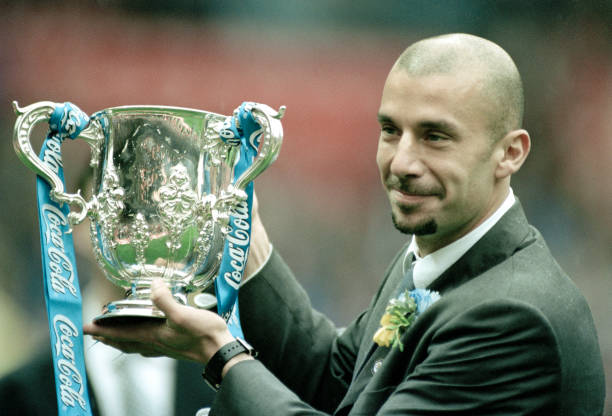 Picture via gettyimages.co.uk
Gianluca's first game was a League Cup Semi Final against Arsenal. We won the game 3-1 (4-3 on agg). Chelsea went on the beat Middlesbrough 2-0 in the final with goals from Roberto Di Matteo and Frank Sinclair.
Our European Cup Winners Cup campaign was equally exciting with memorable games against Tromso (in the snow), Real Betis, Vicenza and Gianfranco Zola scoring a wonder goal in the final against Stuttgart in Stockholm.
Picture via reddit.com
This was an exceptional season for Chelsea and also finishing in a very modeset fourth position in the Premier League. We also qualified again for the European Cup Winners Cup as winners.
As we entered the 1998/99 season Gianluca Vialli carried on where Ruud Gullit left off and Chelsea continued to sign big name players. World Cup winner Marcel Desailly, Albert Ferrer, Pierluigi Casiraghi and Brian Laudrup all joined Chelsea's star studded squad.
There was an early Cup available to Chelsea in the form of the European Super Cup. As winners of the European Cup Winners Cup in the previous season we were paired to play Champions League winners Real Madrid in Monaco. Chelsea won the game with a late winner from Gustavo Poyet. Another European trophy in the cabinet.
Picture via UEFA.com
Despite this success it was the feeling amongst supporters that this was the season that Chelsea would really push for the Premier League title. Crucial injuries to Pierluigi Casiraghi, Gustavo Poyet and Tore Andre Flo did hinder the opportunity. We finished the season third only four points behind champions Manchester United and losing only three Premier League games all season. Despite falling short of the title we would qualify for the next season's UEFA Champions League. A certain young youth player named John Terry made his senior debut during this season in a League Cup fixture against Aston Villa.
The summer of 1999 was no different to any other with big money signings continuing to be attracted to Stamford Bridge. Chris Sutton (a £10m record signing at the time), Mario Melchiot, Gabriele Ambrosetti, Emerson Thome, Jess Hogh, goalkeeper Carlo Cudicini, World Cup Winner Didier Deschamps and later in the season former World Player of the year George Weah were all added to Gianluca Vialli's promising squad.
A respectable league campaign which saw Chelsea finish in 5th place. Champions League football took it's toll on our squad. We made it to the Quarter Final stage losing eventually to Barcelona after famously beating them 3-1 at Stamford Bridge in the first leg. Other memorable moments were a 1-1 draw in Milan, a 5-0 away win in Turkey against Galatasaray and beating Hertha Berlin 2-0 at Stamford Bridge.
Picture via dailymail.co.uk
There was however more silverware to be had during this season as Chelsea went on to win the F.A Cup 1-0 against Aston Villa thanks to Roberto Di Matteo once again. It was made even more historic as Chelsea were the last team to win the F.A Cup at the old Wembley. As a result Chelsea qualified for the UEFA Cup.
Most notably Jimmy Floyd Hasselbaink (A £15m record signing at the time) and Eider Gudjohnsen signed in the summer of 2000. They were also joined by Mario Stanic and Jesper Gronkjaer.
The season started positively with a 2-0 Charity Shield win over Manchester United at Wembley. Goals from Jimmy Floyd Hasselbaink and Mario Melchiot secured the victory. It felt quite significant at the time as Manchester United did not participate in the F.A Cup the previous season due to the FIFA Club World Cup. The day was made even sweeter when then Chairman Ken Bates handed Sir Alex Ferguson his loser's medal.
Picture via chelseafc.com
A slow start to the Premier League season and elimination in the UEFA Cup at the first attempt led to Gianluca Vialli losing his job. Chelsea quickly reacted and Claudio Ranieri was announced as Vialli's successor. Claudio steadied the team and guided Chelsea to a sixth place finish. The main positive of a frustrating season was Jimmy Floyd Hasselbaink scoring 23 goals in 35 Premier League games.
The 2001/02 season would be Claudio Ranieri's first full season as Chelsea manager. Key signings included William Galas, Emmanuel Petit and not forgetting Frank Lampard an £11m signing from West Ham. We also said goodbye to club legend Dennis Wise who left to join Leicester City.
Picture via sportsmole.co.uk
Chelsea finished the season in sixth place for a second consecutive year and were again eliminated from the UEFA Cup during the early stages. Memorable wins at Upton Park (3-2) and White Hart Lane (4-0) set us on our way to another F.A Cup Final only to lose 2-0 to Arsenal at the Millennium Stadium in Cardiff.
It was during the summer of 2002 that Chelsea fans feared the worst as the money appeared to be no longer available. Only Enrique De Lucas on a free transfer and Felipe Oliveira joined the squad and with respect they were far from key signings.
Another disappointing UEFA Cup exit was added to frustrating exits at the Quarter Final stage of both the League Cup and F.A Cup. The European defeats in the UEFA Cup were never seen as vital as the club and fans were ultimately aiming for qualification to the Champions League having tasted it for the first time in 1999.
During the later stages of the Premier League campaign it was clear that it was a two way battle between ourselves and Liverpool for fourth place. Finishing fourth was huge as it is today as it meant qualification for the next season's Champions League.
Strangely enough it was to be Chelsea v Liverpool on the last game of the Premier League season. Liverpool had to win to snatch it from our grasp and we only needed a draw to finish fourth. Having gone 1-0 down we did manage to win the game 2-1 with a fine winner from Jesper Gronkjaer. Media outlets were describing it as one of the most important games in Premier League history. It really did feel like a cup final.
Picture via 90min.com
It was only after the game we realised how important it was as Ken Bates sold the club to Russian billionaire Roman Abramovich………………….
So the next time a rival fan says Chelsea were formed in 2003, just remind them between 1995 and 2003 not only did we have some wonderful managers and players we also won;
x2 F.A Cup's, x1 League Cup, x1 European Cup Winners Cup, x1 European Super Cup, x1 Charity Shield, x2 Champions League Qualification.
Written by Chris Wright